Entertainment
Watch Chris Pratt Teach Jurassic World 3 Co-Stars The Raptor Pose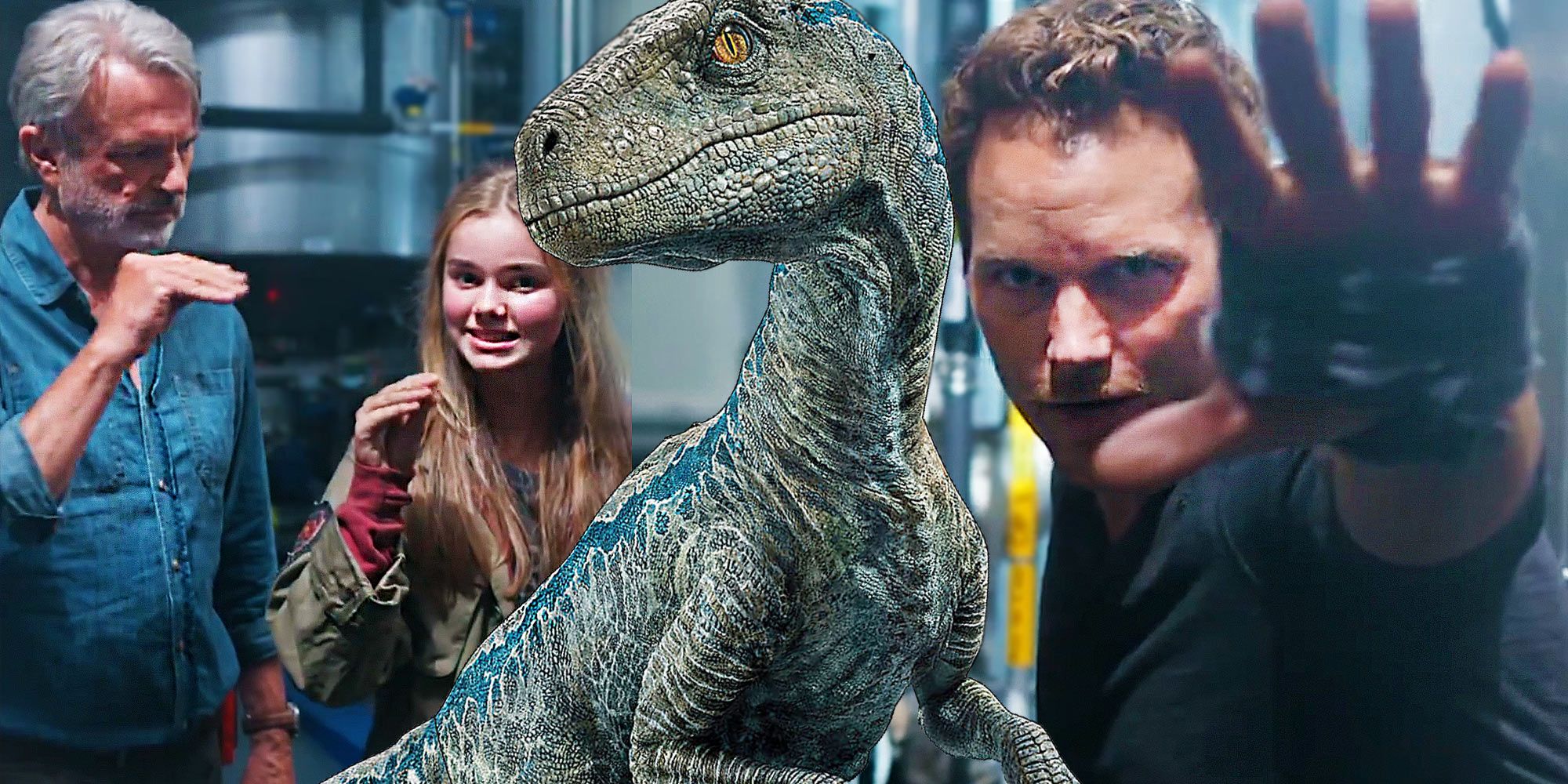 Chris Pratt teaches his Jurassic World: Dominion co-stars Sam Neill and Isabella Sermon the concept of the Raptor Pose and how to execute it. Pratt returns as Owen Grady for the third entry in the Jurassic World franchise, joined by the original Jurassic Park cast, including Sam Neill, Laura Dern, and Jeff Goldblum. Colin Trevorrow is back behind the camera for Dominion, bringing back stars Bryce Dallas Howard, Omar Sy, BD Wong, and Justice Smith, with newcomers to the franchise including Mamoudou Athie, DeWanda Wise, and Campbell Scott as Lewis Dodgson.
In response to someone saying it looks like Grady is trying to give a raptor a high-five with the pose, Pratt took to Instagram, posting a video explanation of the Raptor Pose and how to do it properly. Co-stars Neill and Sermon were on hand to get the lesson, which according to Pratt, took place on Day 89 of filming Jurassic World: Dominion at 3:00 in the morning. The explanation boils down to holding out your hand to project size and dominance to the raptor, even though it has claws, sharp teeth, and the reflexes to make use of them quickly. Check out Pratt's video below:
View this post on Instagram
Pratt's raptor pose isn't the only dinosaur-related technique that's come under scrutiny throughout the years. 1993's Jurassic Park had Neill's Alan Grant telling people that a T-Rex can't see movements, which was later proven to be a false claim, despite it being repeated throughout the franchise afterward. The most recent trailer for Dominion shows Goldblum's Ian Malcolm waving a torch in front of the Gigantosaurus while standing his ground, whereas, in Jurassic Park, he popped a flare and ran, luring an attacking T-Rex away, which ended up injuring him severely. Whether or not there's some closure to Pratt's raptor pose in Dominion remains to be seen, but it's in good company with previous dino techniques that may or may not be scientifically accurate.
The raptor pose becoming a meme doesn't necessarily negate its effectiveness, especially since it's a fairly natural reaction for someone to put their hands out when faced with a dangerous threat. It's impossible to say how well the technique would work, seeing as dinosaurs aren't around to test it on despite the convincing portrayal in the Jurassic franchise. The raptor pose has become a character trait for Grady, meme or no, and passing it on to his co-stars can be humorous and life-saving, depending on how it plays out when Jurassic World: Dominion opens on June 10th.
Source: Chris Pratt
Content
Watch Chris Pratt Teach Jurassic World 3 Co-Stars The Raptor Pose
Chris Pratt teaches his Jurassic World: Dominion co-stars Sam Neill and Isabella Sermon the concept of the Raptor Pose and how to execute it. Pratt returns as Owen Grady for the third entry in the Jurassic World franchise, joined by the original Jurassic Park cast, including Sam Neill, Laura Dern, and Jeff Goldblum. Colin Trevorrow is back behind the camera for Dominion, bringing back stars Bryce Dallas Howard, Omar Sy, BD Wong, and Justice Smith, with newcomers to the franchise including Mamoudou Athie, DeWanda Wise, and Campbell Scott as Lewis Dodgson.
In response to someone saying it looks like Grady is trying to give a raptor a high-five with the pose, Pratt took to Instagram, posting a video explanation of the Raptor Pose and how to do it properly. Co-stars Neill and Sermon were on hand to get the lesson, which according to Pratt, took place on Day 89 of filming Jurassic World: Dominion at 3:00 in the morning. The explanation boils down to holding out your hand to project size and dominance to the raptor, even though it has claws, sharp teeth, and the reflexes to make use of them quickly. Check out Pratt's video below:
View this post on Instagram
A post shared by Chris Pratt (@prattprattpratt)
Pratt's raptor pose isn't the only dinosaur-related technique that's come under scrutiny throughout the years. 1993's Jurassic Park had Neill's Alan Grant telling people that a T-Rex can't see movements, which was later proven to be a false claim, despite it being repeated throughout the franchise afterward. The most recent trailer for Dominion shows Goldblum's Ian Malcolm waving a torch in front of the Gigantosaurus while standing his ground, whereas, in Jurassic Park, he popped a flare and ran, luring an attacking T-Rex away, which ended up injuring him severely. Whether or not there's some closure to Pratt's raptor pose in Dominion remains to be seen, but it's in good company with previous dino techniques that may or may not be scientifically accurate.
The raptor pose becoming a meme doesn't necessarily negate its effectiveness, especially since it's a fairly natural reaction for someone to put their hands out when faced with a dangerous threat. It's impossible to say how well the technique would work, seeing as dinosaurs aren't around to test it on despite the convincing portrayal in the Jurassic franchise. The raptor pose has become a character trait for Grady, meme or no, and passing it on to his co-stars can be humorous and life-saving, depending on how it plays out when Jurassic World: Dominion opens on June 10th.
Source: Chris Pratt
#Watch #Chris #Pratt #Teach #Jurassic #World #CoStars #Raptor #Pose