Entertainment
Rob Zombie's Munsters BTS Image Reveals Alternate Herman Costume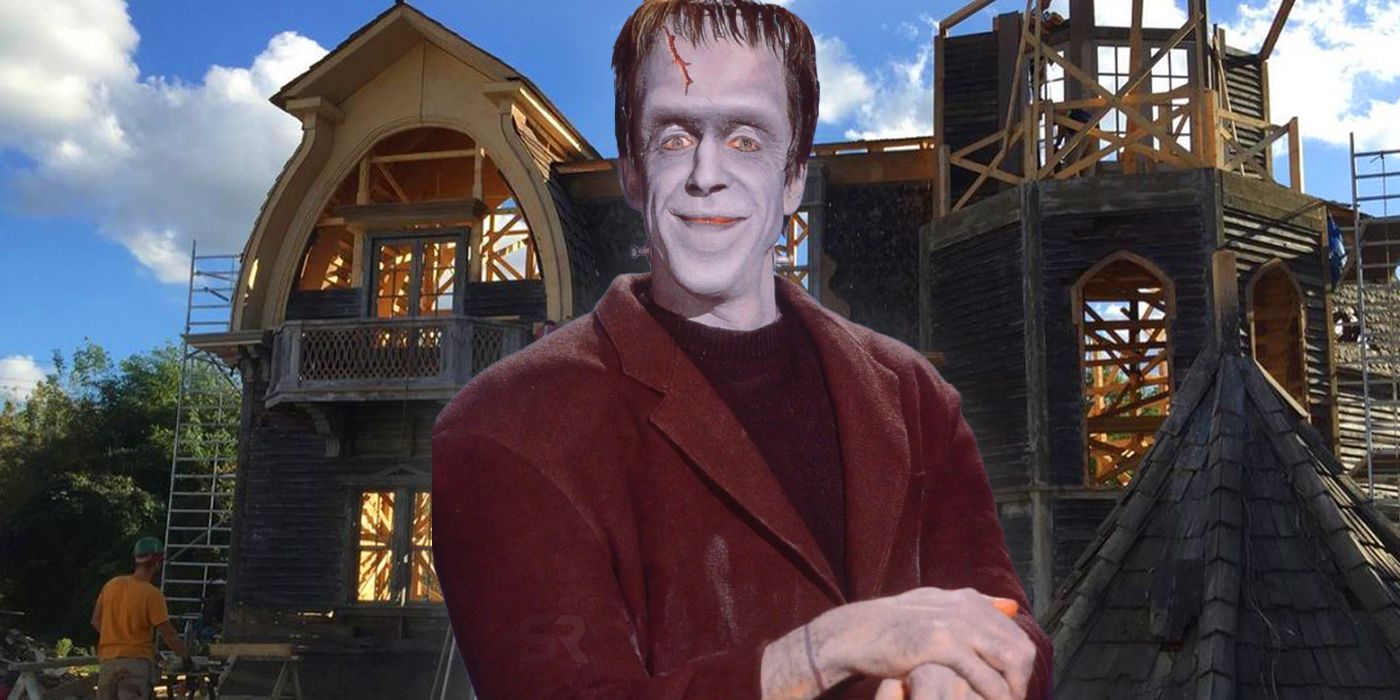 Rob Zombie has shared two new behind-the-scenes photos from The Munsters, showing off a brand new costume for Herman Munster. The Munsters began its life as a two-season CBS sitcom in 1964 that followed the lives of a family of monsters living in a suburban neighborhood with their human niece Marilyn. The franchise has seen many revamps and revivals since then, including the 1988 follow-up The Munsters Today, which ran for longer than the original series, and Bryan Fuller's Mockingbird Lane, a TV special that was originally meant to be the pilot for a new series. The latest Munsters project to come down the line is a feature-length film adaptation from The Devil's Rejects director Rob Zombie.
Although the film does not yet have an official release date, it has been announced that it will simultaneously debut theatrically and on the Peacock streaming service. Zombie's version of the project, which is currently filming in Budapest, will mark his first foray into comedy. He will be re-teaming with some familiar faces including his wife and frequent collaborator Sheri Moon Zombie, who will be playing Lily Munster, and 31's Richard Brake as Dr. Henry Augustus Wolfgang. The cast also includes Jeff Daniel Phillips as Herman Munster, Daniel Roebuck as Grandpa, Sylvester McCoy as Igor, Catherine Schell as Zoya Krupp, Dee Wallace as a radio host, and Cassandra Peterson (Elvira herself) as Barbara Carr.
Today on his official Instagram account, Rob Zombie shared two behind-the-scenes photos from the set of The Munsters. The first shows the director hanging out with Herman, Lily, and Grandpa in front of a cherry red picture window, and the second shows the actual shot setup from the scene they're shooting. One notable element of these photos is the costume that Herman is wearing, which appears to be a Hawaiian shirt-inspired design decorated with skulls and crossbones. Check out his post below:
View this post on Instagram
Click here to view the original post.
This costume is unusually casual for the Frankensteinian patriarch. Typically, he is seen in a spiffier suit, mimicking the look of burial clothes. Although details from the script are thin at the moment, this sneak peek may reveal that one of the upcoming plotlines will send the monstrous family on vacation. This move would mimic both The Addams Family and the third Hotel Transylvania film.
So far, it's difficult to tell exactly how much The Munsters will resemble the original series or its subsequent projects. Rob Zombie's typical approach to filmmaking wouldn't seem to square well with the comic register, even one so broad as to include a costume like the one shown above. It could certainly result in an interesting intensity that might very possibly heighten the comedy further than it would have in the hands of another director.
Source: Rob Zombie/Instagram
Content
Rob Zombie's Munsters BTS Image Reveals Alternate Herman Costume
Rob Zombie has shared two new behind-the-scenes photos from The Munsters, showing off a brand new costume for Herman Munster. The Munsters began its life as a two-season CBS sitcom in 1964 that followed the lives of a family of monsters living in a suburban neighborhood with their human niece Marilyn. The franchise has seen many revamps and revivals since then, including the 1988 follow-up The Munsters Today, which ran for longer than the original series, and Bryan Fuller's Mockingbird Lane, a TV special that was originally meant to be the pilot for a new series. The latest Munsters project to come down the line is a feature-length film adaptation from The Devil's Rejects director Rob Zombie.
Although the film does not yet have an official release date, it has been announced that it will simultaneously debut theatrically and on the Peacock streaming service. Zombie's version of the project, which is currently filming in Budapest, will mark his first foray into comedy. He will be re-teaming with some familiar faces including his wife and frequent collaborator Sheri Moon Zombie, who will be playing Lily Munster, and 31's Richard Brake as Dr. Henry Augustus Wolfgang. The cast also includes Jeff Daniel Phillips as Herman Munster, Daniel Roebuck as Grandpa, Sylvester McCoy as Igor, Catherine Schell as Zoya Krupp, Dee Wallace as a radio host, and Cassandra Peterson (Elvira herself) as Barbara Carr.
Today on his official Instagram account, Rob Zombie shared two behind-the-scenes photos from the set of The Munsters. The first shows the director hanging out with Herman, Lily, and Grandpa in front of a cherry red picture window, and the second shows the actual shot setup from the scene they're shooting. One notable element of these photos is the costume that Herman is wearing, which appears to be a Hawaiian shirt-inspired design decorated with skulls and crossbones. Check out his post below:
View this post on Instagram
A post shared by RobZombieofficial (@robzombieofficial)
Click here to view the original post.
This costume is unusually casual for the Frankensteinian patriarch. Typically, he is seen in a spiffier suit, mimicking the look of burial clothes. Although details from the script are thin at the moment, this sneak peek may reveal that one of the upcoming plotlines will send the monstrous family on vacation. This move would mimic both The Addams Family and the third Hotel Transylvania film.
So far, it's difficult to tell exactly how much The Munsters will resemble the original series or its subsequent projects. Rob Zombie's typical approach to filmmaking wouldn't seem to square well with the comic register, even one so broad as to include a costume like the one shown above. It could certainly result in an interesting intensity that might very possibly heighten the comedy further than it would have in the hands of another director.
Source: Rob Zombie/Instagram
#Rob #Zombies #Munsters #BTS #Image #Reveals #Alternate #Herman #Costume
Synthetic: Tài Chính Kinh Doanh
#Rob #Zombies #Munsters #BTS #Image #Reveals #Alternate #Herman #Costume