Tech
OnePlus 10R Vs. OnePlus 10 Pro: How The Two OnePlus Phones Compare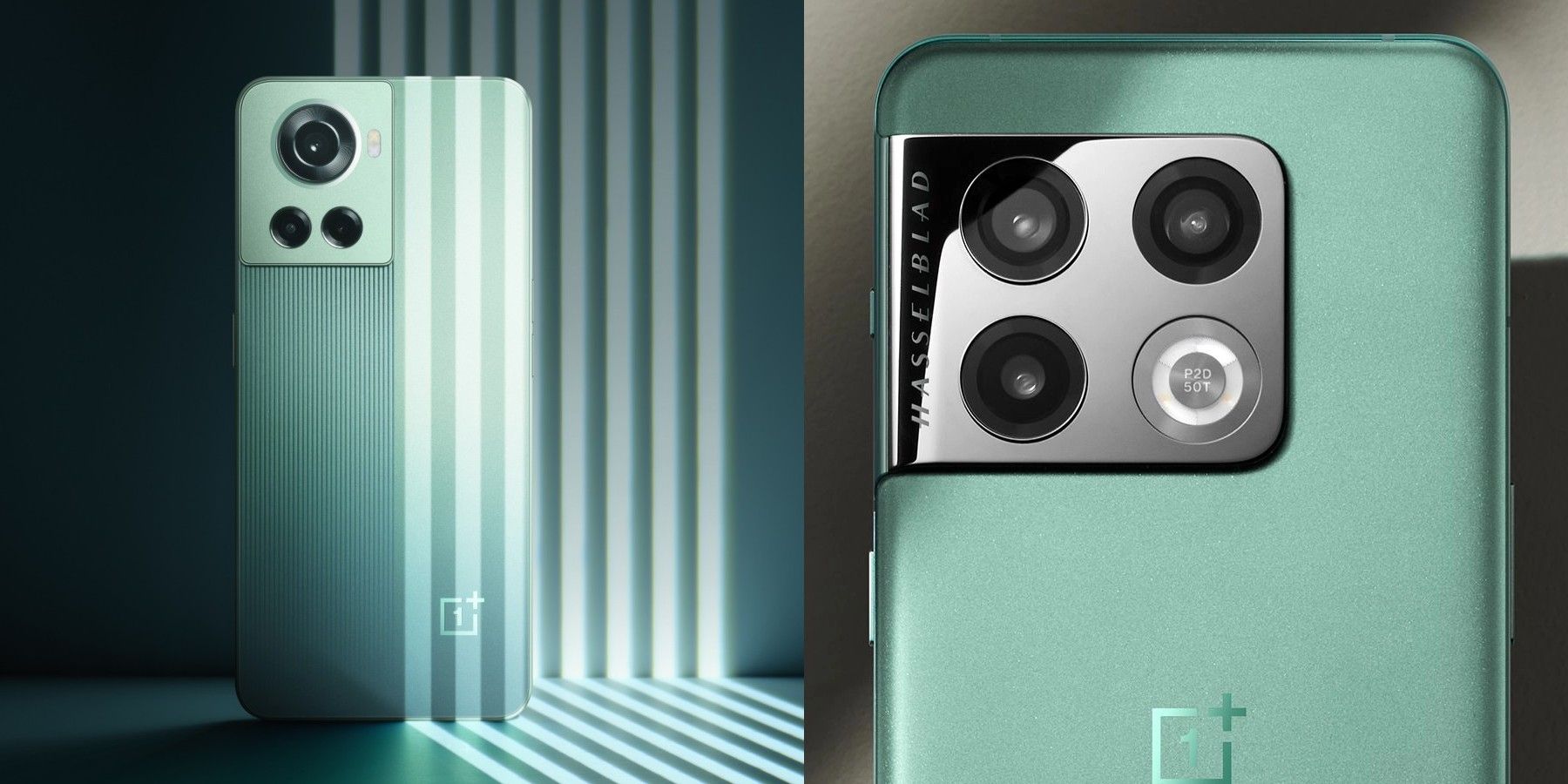 Both phones have 6.7-inch displays. The OnePlus 10R's screen is an FHD+ OLED panel with a 120Hz refresh rate, HDR10+, and Gorilla Glass protection. On the other hand, the OnePlus 10 Pro has a QHD+ AMOLED LTPO panel. It also has a 120Hz refresh rate but can dynamically adjust this between 1Hz and 120Hz whereas the 10R can only switch its refresh rate between 60Hz, 90Hz, and 120Hz. OnePlus has equipped the 10R with the Dimensity 8100-MAX processor, a more powerful variant of the Dimensity 8100 announced in March 2022. The chipset is paired with 8GB/12GB of LPDDR5 RAM and 128GB/256GB of non-expandable UFS 3.1 storage.
Powering the OnePlus 10 Pro is the Snapdragon 8 Gen 1 chipset made by Qualcomm and it is paired with up to 12GB of RAM and 512GB of storage (8GB + 128GB in the U.S.). Like all OnePlus flagships, it doesn't have a slot for SD cards. The OnePlus 10 duo both pack triple rear cameras but with different configurations. The camera array on the OnePlus 10R includes a 50MP f/1.8 Sony IMX766 main camera with OIS, an 8MP 119-degree ultra-wide camera, and a 2MP macro camera. In contrast, the OnePlus 10 Pro has a 48MP f/1.8 Sony IMX789 primary sensor with OIS, a 50MP ultra-wide camera with an impressive 150-degree field of view, and an 8MP telephoto camera with OIS and up to 3.3x optical zoom. The 10 Pro also gets a Hasselblad Pro mode and a 32MP front-facing camera while the 10R misses out on the Hasselblad collaboration and has a lower resolution 16MP sensor for selfies.
OnePlus offers two versions of the OnePlus 10R – a 5,000mAh model that supports 80W fast charging and a 4,500mAh model that supports 150W fast charging. The former ships with an 80W charger in the box while the latter ships with a 150W charger. The OnePlus 10 Pro also has two versions – a global variant with a 5,000mAh battery capacity that supports up to 80W fast charging and a U.S. edition that supports 65W fast charging. It also has support for 50W fast wireless charging and reverse wireless charging. Both phones feature stereo speakers (Dolby Atmos on the OnePlus 10 Pro), in-display fingerprint sensors, and face unlock. In addition to having dual-band Wi-Fi and NFC, the OnePlus 10R has Bluetooth 5.3 while the OnePlus 10 Pro has Bluetooth 5.2.
Both phones run OxygenOS 12 based on Android 12. In 2021, OnePlus announced that its flagships will receive three OS upgrades and four years of security updates, and this applies to both the OnePlus 10R and 10 Pro. The OnePlus 10R is only available in India for now with no news yet of a wider release. It is priced at INR 38,999 (~$509) for the 8GB + 128GB version and INR 42,999 (~$562) for the 12GB + 256GB. The 150W version also has 12GB of RAM and 256GB of storage but retails for INR 43,999 (~$574). That is much cheaper than the OnePlus 10 Pro which is priced at $899 (8GB + 128GB) in the United States.
Source: OnePlus 1, 2
Content
OnePlus 10R Vs. OnePlus 10 Pro: How The Two OnePlus Phones Compare
Both phones have 6.7-inch displays. The OnePlus 10R's screen is an FHD+ OLED panel with a 120Hz refresh rate, HDR10+, and Gorilla Glass protection. On the other hand, the OnePlus 10 Pro has a QHD+ AMOLED LTPO panel. It also has a 120Hz refresh rate but can dynamically adjust this between 1Hz and 120Hz whereas the 10R can only switch its refresh rate between 60Hz, 90Hz, and 120Hz. OnePlus has equipped the 10R with the Dimensity 8100-MAX processor, a more powerful variant of the Dimensity 8100 announced in March 2022. The chipset is paired with 8GB/12GB of LPDDR5 RAM and 128GB/256GB of non-expandable UFS 3.1 storage.
Powering the OnePlus 10 Pro is the Snapdragon 8 Gen 1 chipset made by Qualcomm and it is paired with up to 12GB of RAM and 512GB of storage (8GB + 128GB in the U.S.). Like all OnePlus flagships, it doesn't have a slot for SD cards. The OnePlus 10 duo both pack triple rear cameras but with different configurations. The camera array on the OnePlus 10R includes a 50MP f/1.8 Sony IMX766 main camera with OIS, an 8MP 119-degree ultra-wide camera, and a 2MP macro camera. In contrast, the OnePlus 10 Pro has a 48MP f/1.8 Sony IMX789 primary sensor with OIS, a 50MP ultra-wide camera with an impressive 150-degree field of view, and an 8MP telephoto camera with OIS and up to 3.3x optical zoom. The 10 Pro also gets a Hasselblad Pro mode and a 32MP front-facing camera while the 10R misses out on the Hasselblad collaboration and has a lower resolution 16MP sensor for selfies.
OnePlus offers two versions of the OnePlus 10R – a 5,000mAh model that supports 80W fast charging and a 4,500mAh model that supports 150W fast charging. The former ships with an 80W charger in the box while the latter ships with a 150W charger. The OnePlus 10 Pro also has two versions – a global variant with a 5,000mAh battery capacity that supports up to 80W fast charging and a U.S. edition that supports 65W fast charging. It also has support for 50W fast wireless charging and reverse wireless charging. Both phones feature stereo speakers (Dolby Atmos on the OnePlus 10 Pro), in-display fingerprint sensors, and face unlock. In addition to having dual-band Wi-Fi and NFC, the OnePlus 10R has Bluetooth 5.3 while the OnePlus 10 Pro has Bluetooth 5.2.
Both phones run OxygenOS 12 based on Android 12. In 2021, OnePlus announced that its flagships will receive three OS upgrades and four years of security updates, and this applies to both the OnePlus 10R and 10 Pro. The OnePlus 10R is only available in India for now with no news yet of a wider release. It is priced at INR 38,999 (~$509) for the 8GB + 128GB version and INR 42,999 (~$562) for the 12GB + 256GB. The 150W version also has 12GB of RAM and 256GB of storage but retails for INR 43,999 (~$574). That is much cheaper than the OnePlus 10 Pro which is priced at $899 (8GB + 128GB) in the United States.
Source: OnePlus 1, 2
#OnePlus #10R #OnePlus #Pro #OnePlus #Phones #Compare